Flore Espina | on the way to the Olympic Games
Hypo Advisors SA and its employees are very proud to financially support the young Flore Espina, a disabled athlete, in her goal to participate in the Paris Paralympic Games under the flag of Switzerland in 2024.
A serious motorcycle accident radically changed Flore Espina's life. But her passion for equestrian sports was stronger than the physical handicap she had to learn to live with. Today, the dynamic sportswoman represents Switzerland in the perspective of the discipline of Para-Dressage.
FLORE ESPINA DREAMS THAT ONE DAY, IN PARA-DRESSAGE, SHE WILL BE ABLE TO ...
REPRESENT SWITZERLAND AT THE OLYMPIC GAMES
When the Spanish stallion Quincel de Valdesol gives his best in the dressage ring with Flore Espina on his back, the pair represents a perfect fusion. The grey reacts very willingly to the help of his rider and even in the most demanding exercises he puts his heart into everything he does. For the 35-year-old from Neuchâtel, "dancing" like this in the sand is not a given, because her left leg had to be amputated below the knee due to gangrene.
Land of horses and adopted homeland: Spain
When Flore Espina started riding at the age of 4 during a holiday in Spain, she could not have known that 30 years later, this country and its horses would determine her life.
After this first equestrian experience in Spain, the horses never left her side. Her childhood in Val-de-Travers was dedicated to horse riding, more oriented towards jumping.
When she was 19, she decided to move to Spain to study veterinary medicine. 
But the reality was quite different: in August 2006, she suffered a serious motorcycle accident resulting in an open fracture of the tibia and fibula in her left leg. Unfortunately, her stay in the hospital became more complicated and her leg became gangrenous. Subsequently, her left leg had to be amputated below the knee.
In her first month of hospitalisation, she underwent 21 surgical procedures. She suffered from very advanced gangrene and her internal organs began to fail. "I spent more than a month in intensive care, but in the end my will to live won," says the fighter.
Recovery of self-confidence
After more than 100 days of hospitalisation, Flore Espina was discharged and had to adapt to her new life without legs: "I was 21 years old then, my body was mutilated and I had to learn everything again: how to walk, how to stand up, how to look at other people".
During the first year of rehabilitation, she could not use a prosthesis because what was left of her leg was too damaged. She was therefore condemned to a wheelchair or crutches. Rehabilitation was slow and targeted at elderly amputees mostly as a result of diabetes. She was not making progress and was rather frustrated with her new situation.
Then one day she decided to fight and get up every day: "I decided to take advantage of this second opportunity to live that was given to me". It was then that she met a German dressage rider who suggested that they try riding together. Thus, Flore Espina resumed horse riding. However, the beginning was very complicated: "I had no physical strength and, on top of that, I was psychologically weakened. But little by little, it allowed me to rehabilitate myself both physically and emotionally".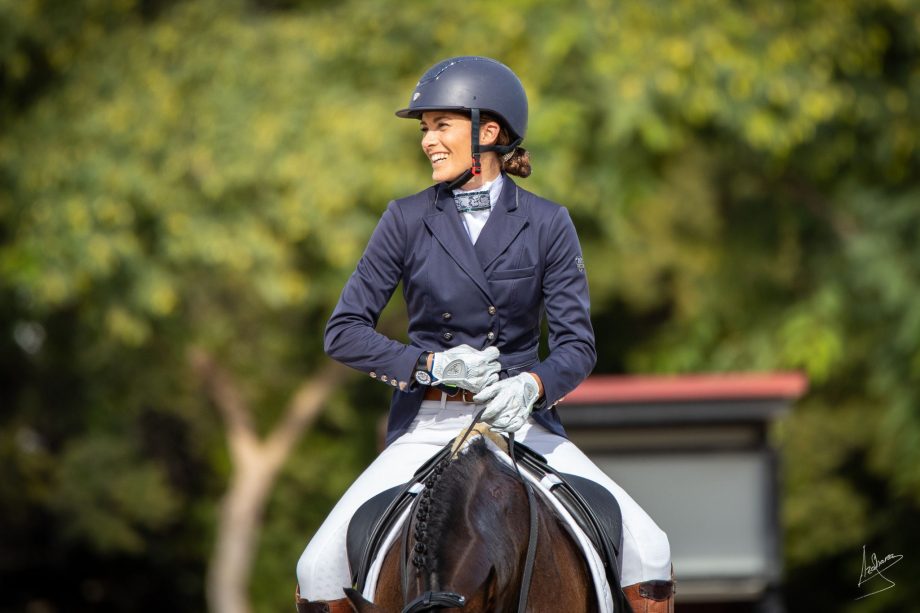 Soon after, the young mother of a little boy completed her studies in veterinary medicine at the University of Cordoba (ESP) and moved with her son to the province of Cadiz. It was then that she began to participate in Para-Dressage competitions. To do this, a breeding farm in the region lent her a pure-bred Spanish stallion (PRE): Quincel de Valdesol. In 2019, Flore Espina joined the Swiss Para-Dressage perspective team and represented Switzerland for the first time at an international competition in Lisbon (POR).
For a few weeks now, Flore Espina has had the opportunity to ride a 14-year-old KWPN mare whose owner is committed to the enthusiastic Para-Dressage athlete's project. Training with her new Báltica de Encinasola steed is going well; this promising pair has already successfully competed in two 3* national competitions and they have just won the Andalusian championship. Next spring, Flore and Báltica are planning to participate in two international competitions to qualify for the Paris Olympics Games.
The versatile sportswoman who, in addition to horse riding, also enjoys rock climbing, surfing, kayaking and cycling, and works as a model for different brands, does not rebel against her past, but looks to the future with a clear objective in mind: to participate in the Olympic Games.